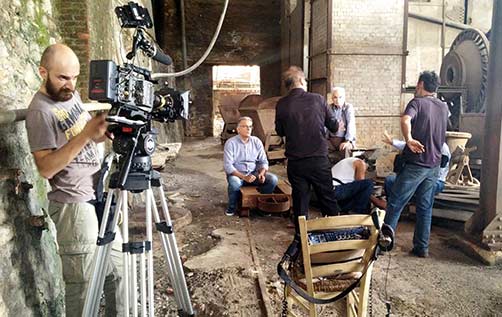 Immediately after the cessation of metallurgical activity in the complex of the former FMCL, the site became a "natural" setting for a number of film, television and advertising productions. Great award-winning directors, both Greeks such as Angelopoulos, Koundouros, Ferris, Psarras, Koutsomytis, Manousakis, Boulmetis and others, as well as foreigners such as Chan-Wook Park, Oskar Bård, Vincent Lobelle, have filmed on site, accompanied by a number of distinguished actors and crews. What makes the site unique though, is the variety of cinematic frames offered by the different architectural landscapes, both in the restored and in the ruined areas, from the purely industrial setting to the historical residential or natural environment.
The additional amenities offered by the Park, such as the ample space for parking and installation, the guarding, as well as the proximity to many also interesting places of Lavreotiki, which have also been favourite cinema sets, increases its popularity in the artistic / creative industry.
We indicatively list some of the productions, the shooting of which, took place (also) in our premises:
International Productions:
A Necessary Story (Historical documentary, international co-production) – Α. Abazoglou (2019)

Long films:
Days of '36 (1972),  The Travelling Players (O Thiasos, 1974), Ulysees' Gaze  (1995) – T. Angelopoulos
Silent Machines  (documentary) – T. Retzis (1998)
Short films:
Afternoon Possibilities (documentary) – Orestis & Dimitris Stavropoulos (2017)
TV series-shows:
The Witches of Smyrna – K. Koutsomytis (2005)
Chara's Coffeeshop – K. Lychnaras, T. Michael (2003-2006)
MasterChef – Greece (2018, 2019)
Additionally, many movie trailers, music videos, commercials and other productions of the creative industry have been shot here.