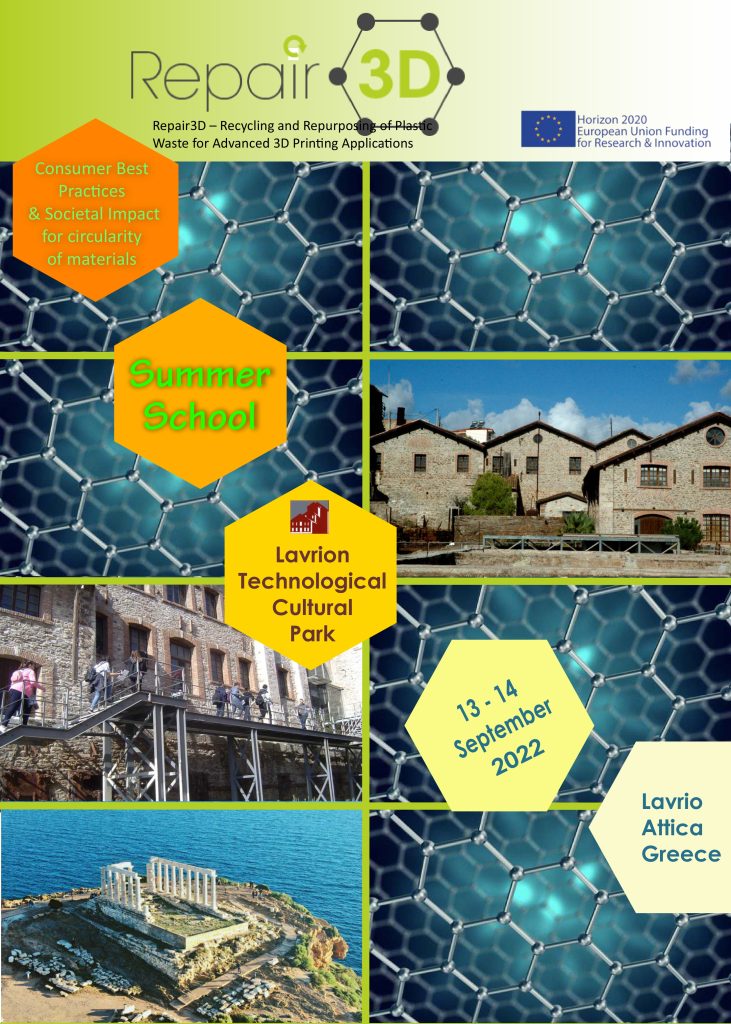 LTCP announces the conduction of a Summer School & Training Session (SS/T) in the framework of   "Recycling and Repurposing of Plastic Waste for Advanced 3D Printing Applications" (Repair3D) Project funded by the Horizon 2020 Program. The SS/T will take place in the premises of LTCP at the city of Lavrion, on the 13th and 14th of September 2022 and it is organized by Lavrion Technological and Cultural Park (LTCP) and National Technical University of Athens (NTUA), in close cooperation with other Partners from REPAIR3D Project. The SS/T will include several lectures related to plastic circularity and recycling, manufacturing of plastics composites, consumers best practices and relevant societal impacts. More specifically the main topics of the SS/T include:
Plastics Circularity in EU
Plastics Waste Management
Plastics Recycling Technologies
Automatic Identification Systems in Plastics Recycling
Design for Additive Manufacturing
3D Printing with recycled plastics
3D Printing with nanomaterials for sensing applications
Safety Aspects in 3D Printing with Recycled Materials
Demonstration of mechanical recycling processes and materials characterisation
Demonstration of 3D printing activities
Final agenda of the SS/T is available here.
In the end of the first day of SS/T, dinner at the city of Lavrion has been arranged with the participation of all students and lecturers.
Free transport from and to the LTCP premises will be provided to students accommodated in Lavrion and Sounion areas (see list of accommodation options below).
Young researchers from industry and academia, undergraduate students, and post-graduate students (Masters and Ph.D. students) are encouraged to apply.
Accommodation in Lavrion
City center
Sounion (10 km from Lavrion)